Flash Sport Fishing Charters is one of the top fishing charters in San Francisco, offering exceptional fishing trips and tours to anglers of all skill levels.
The impressive Flash Sport Fishing fleet is led by none other than Captain Steve Talmadge, a lover of the sport and guide to those looking for their big catch.
He is fully insured to fish in the waters of California and is equipped with a U.S. Coast Guard Masters License.
Captain Steve Talmadge has been navigating the San Francisco Bay and Ocean waters since 1970.
He has experience in both commercial and sport fishing in these waters. He has a Coast Guard Masters License and is fully insured.
Booking a San Francisco Fishing Charter
Captain Steve keeps the fishing charter groups small—no more than 6 anglers per fishing trip in San Francisco. This allows for every angler to receive the personal attention they need, which you can't always find anywhere else.
At Flash Sport Fishing Charters, we offer several half-day and full-day guided charter and trip options during the San Francisco season.
From half-day private tours to salmon trolling trips, we have it all. Just bring your fishing license and a meal—everything else is included!
Please visit the California Department of Fish and Wildlife to purchase a Fishing License.
Check out our rates and charter availability here.
Shark Fishing
Join Captain Steve and his crew for a safe and exhilarating time shark fishing out on the San Francisco Bay waters.
11 species of shark in the San Francisco Bay area
You'll have a well-trained crew to help with your battle
Leave with an unforgettable experience and story to tell!
Deep Sea Fishing
Large and exotic Pacific sportfish await you when you come on our deep sea fishing charter in San Francisco.
Perfect trip for expert and amateur anglers
Enjoy scenic views of Alcatraz, Angel Island, and the Farallon Islands
Reel in rockfish, salmon, striped bass, and more
On Board Boat Parties
Whether it's a company outing or a family BBQ, come on board our charter boat for a true wharf boat party.
Due to our prime location in the heart of the Wharf, you can enjoy time on the boat as well as a stroll down Fisherman's Wharf.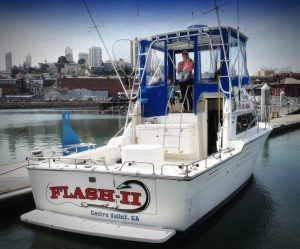 Our Fishing Charter Boats
Flash and Flash II offer two very different experiences to veteran fishermen and novices alike.
The original Flash is a 32-foot Wegley with a 14-foot beam (14 feet wide) and Flash II is a 33-foot Tiara with a 12.8-foot beam (13 feet wide).
Both charter boats meet all of the latest clean air requirements and have earned the titles of environmentally GREEN vessels.
About Fisherman's Wharf
The boats docked at Fisherman's Wharf span generations, now maintained by the descendants of fishermen who made their livelihoods on the San Francisco Bay waters.
Learn more about the history of Fisherman's Wharf here.
Ready to Come Aboard?
Your fishing adventure starts here at Flash Sport Fishing Charters!
Contact us today to learn more about booking a fishing charter trip with us.