Before hitting the open water on your upcoming charter trip with us in San Francisco, it'll help to know the things you'll need to bring with you and the things we'll be providing!
Check out our San Francisco fishing charter checklist:
What to wear on a fishing charter in San Francisco:
Clothing
When it comes to dressing for your charter trip, we suggest sticking to lightweight and light in color.
First, lightweight clothing articles will help keep you feeling cool and comfortable throughout the day, while also saving you from some unwanted sunburn.
Second, light colored clothing will reflect the sun's rays rather than absorb them as it happens with darker colors.
Comfortable Footwear
As much as you'll be relaxing, you're also going to be on your feet, fighting a battle with your soon-to-be big catch.
Be sure to wear your most comfortable shoes or boots, preferably non-skid so that when you're on your feet, you stay on your feet.
Sunglasses & hat
Although you may feel that refreshing breeze coming from off the water, you're going to start feeling the effects of the sun's rays beating down on you throughout the day.
Come well-prepared with a pair of sunglasses and a hat, keeping you cool and protecting you from the sun.
Raingear (if necessary)
Keep an eye on the weather before you venture out on your fishing charter trip because you may need to bring a handy parka or windbreakers to fend off the elements.
What to Bring on a Fishing Charter in San Francisco:
Seasickness medication
If you are prone to motion sickness, you may experience a level of seasickness while out on the fishing charter.
There are several over-the-counter remedies for seasickness, but it would be best to consult with your doctor or pharmacist on the matter because preparation is key.
Sunscreen
When on a fishing charter trip, you must take the necessary precautions to protect yourself from the sun.
Bring along at least 30+ SPF and remember to reapply throughout the day.
Fishing License
One of the most important items you'll need to have with you at all times is your fishing license.
You can purchase a California fishing license from the California Department of Fish and Wildlife or they are available for purchase on the boat.
Food & Drink
You're going to get hungry out there on the open water and unfortunately, you won't be able to eat that fresh catch you just reeled in yet.
Not to worry though—bring along a lunch, snacks and drinks that will keep you hydrated and full for that full-day of fishing!
What Do We Provide on Our Fishing Charters:
At Flash Sport Fishing, we only need you to bring yourself (properly dressed for the weather). A lunch, and your fishing license.
We provide you with everything else!
Fishing Equipment
You can't score your big catch without the right equipment—luckily, Flash Sport Fishing Charters supplies everything you'll need.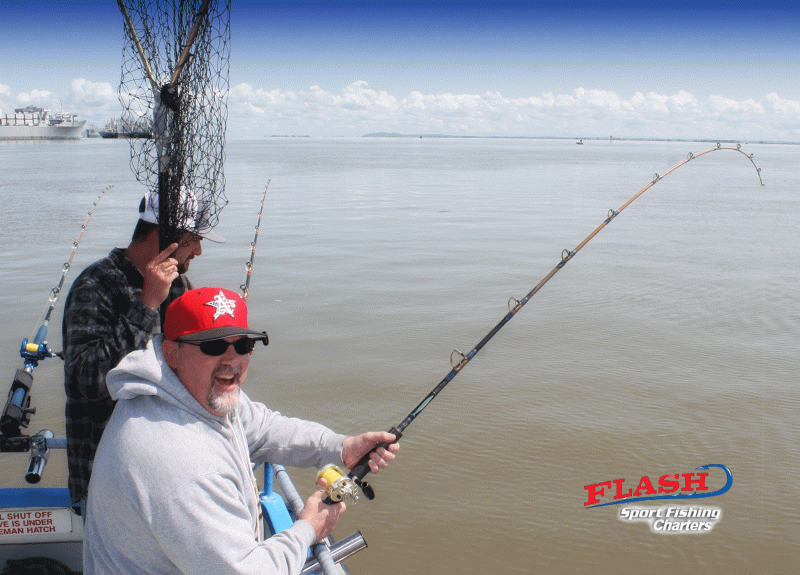 Here are a few key pieces we'll provide for your fishing trip:
Custom Rods
Quality reels
Tackle
Bait specialized for each trip
Rods and reels are available for our left-handed anglers and there are two speed reels available for children.
Captain Steve uses Avet reels and hand built custom rods by Mac's Custom Rods, setting them up before you arrive depending on what type of fish you're aiming for.
However, your personal equipment is always welcome! Just ask Captain Steve about how best to set up your rod and reel.
Latest Fish Finder Technology
We have two charter boats in our fleet at Flash Sport Fishing Charters: Flash and Flash II.
Both are fully equipped with the latest technology in navigation and radar, as well as high quality fish finder systems.
Ready to come fishing with us?
Now that you have everything on the list checked off, it's time to hit the open water!
Contact us today to learn more about booking a fishing charter in San Francisco with Captain Steve and his crew.