The country is filled with lots of great places to go bass fishing, but you won't find many that offer the kinds of bass fishing trips that you'll take when you're in San Francisco. To enhance your experience, you should consider going out on a bass fishing charter provided by Flash Sport Fishing Charters. Captain Steve Talmadge has been fishing in San Francisco Bay and the surrounding ocean waters for 50 years now and knows his way around. You'll be treated to the experience of a lifetime when you climb aboard our boat for guided bass fishing.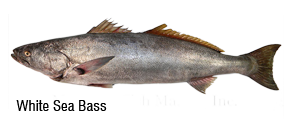 Guided Bass Fishing
There are several kinds of bass that you'll find in San Francisco Bay throughout the year. Flash Sport Fishing Charters specializes in helping anglers of all ages and skill levels to fish for striped bass and white sea bass when they turn to us for their bass fishing needs. We can show you some of the best spots to drop your line into the water during our bass fishing trips. We can also provide you with everything you'll need, including custom rods and reels as well as bait and tackle, when you schedule a trip on our bass fishing charter. The only thing you'll need to worry about is paying close attention on your guided bass fishing trip and learning more about how to reel in big bass fish with our assistance.
At Flash Sport Fishing Charters, we like to limit the number of people that we take out on bass fishing trips. This gives us the opportunity to offer anglers our undivided attention when they're with us. Whether you need us to show you how to cast your line or how to reel in a striped bass or white sea bass while it's putting up a fight, we'll aim to teach you what you need to know to catch as many bass as you possibly can.
Touch base with Flash Sport Fishing Charters at 510-851-2500 if you're interested in going bass fishing in the San Francisco Bay.