What Our Clients Say About Us…
Worth Every Penny! May 9, 2019
Chartered halibut trip for youngest sons bachelor weekend, (1st time…(Fishing with flash, and marriage) and boy-O-boy did they deliver! Not only did Captn. Steve and crew help keep the atmosphere as one to remember, but their knowledge and expertise helped to delivered memories that will last a life time. The halibut haul will last for many months of glorious fish fries. If you have never experienced Bay fishing before, look to no one else but Flash Fishing and Captn. Steve. He'll make ya famous! Thanks again for everything & we'll see ya again real soon!
David D.
Great Day Fishing Jun 6, 2019
Captain Charlie did a great job and worked hard to put us on some great fish. We had an awesome day and will be definitely going out again with the Flash.
Matt Nurisso
Forrest and Brittany – Mar 2, 2020
We went with a group of six for a full day with Captain Steve and deck hand Justin so we were in good company! These guys are experts. The bite started a little late and Captain Steve was kind enough to extend the time on the water and the results came with some good sturgeon!!!! And even a double hook up! Captain Steve cooked us some moose burgers and had snacks and coffee ready to go! Captain Steve and Justin are very nice people. Played good music, relaxed and overall an exceptional time spent fishing! If you're even thinking about this trip, book it now!!!
Forrest and Brittany
Best Captain and Crew Duo!! Excellent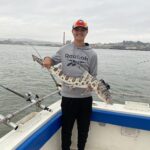 Captain Steve and Deck Hand John made our experience one to remember! They were kind, full of knowledge and funny! We had sharks biting within minutes of stopping and continued that way through the duration of our trip. We caught many leopard and sand sharks. The half day trip went by so quickly we all wished we would have booked the full day. The entire family had a great time! Captain Steve and John were great with our boys! Highly recommend and will be back if we are ever in the area again!
Amber S.
Best time ever
My buddy and joined up with FSFC a week ago. By far the most enjoyable fishing experience ever. 1st a hound shark was brought in, followed by my hooking up with a nice 7 gill shark. She was approximately 60 inches and put up a hell of a fight. After a couple if photos, I set her free. Then I got my.1st Leopard Shark. She was a few inches smaller, buy the fight she gave me was unbelievable. Once on board, it was obvious she was ready to release her pups, so back she went. I finished with a 3rd shark. Another female. What I most appreciated from the crew was their attentiveness and the quick work they made of getting our gear back in the water. The conversations were interesting and the captain's knowledge and experience insured a great trio. I've already secured the ok from my wife for another charter next month with FSFC. If you choose another charter, I wish you the best, with these guys it's almost guaranteed.
Jay Stahler
Our 4th Annual Fishing Trip With Flash Fishing
My heading says it all – we wouldn't keep coming back unless we had great success each time! We have been going out with Capt. Charles and I am constantly amazed at his knowledge. Not only does he know the best spots to fish (both Bay and Ocean), if the fish are not biting at whatever spot we try he will weigh anchor and find a spot where they are biting. The best part is that he will teach you how to fish for whatever type of fish are running and he will monitor how you are doing and point out any mistakes you make in technique that are letting fish get away. So, even if you have never gone fishing before, Flash Fishing is a great place to start!
Robert de Sugny
Hi Captain Steve, thank you
Hi Captain Steve, thank you so much for the Sturgeon trip Dec 3, 2022, good time was had by all and to top it off we caught fish. Captain Charles and the rest. of the crew are top notched working with us newbie's in bringing in the fish. This is the fourth trip I've taken with you and your crew and have always enjoyed. looking forward to going out with you again.
Albert Mayfield
What makes a fishing trip to never forget?
The weather was almost perfect, and live bait had just become available a few weeks earlier. Unexpectedly, the tide was near perfect, and lots of boats with eager fishermen and women were out. So how and why did our trip become so special..?? Well immediately, Captain Steve and Max saw this as an opportunity to show us (we were five on board) how and why they have a reputation of providing unsurpassed service and fishing experiences! Captain Steve moved the boat from spot to spot – elegantly balancing between being patient enough but also aggressively looking for better waters…. It took us a little while to get started, but then the fishing went through the roof!! We all caught our limit (so 15 halibut), and only a couple of them were under 24 inches – the biggest was 38! So, was it that we caught about 150 lbs of halibut that made the day unforgettable? Sort of, yes – but not entirely. What was incredible was how committed Steve and Max were to deliver a fishing experience that we are still talking about weeks later… With this boat and this crew, no BS! They don't over-promise, and you get the most professional and courteous service.
For us, the only negative is that there is just no way we can ever match this fishing experience ever again!
Christian Nansen
AWESOME TRIP!!!
Captain Charles and deck hand Ben were amazing! They got us on the fish and worked hard for us. They worked together well, communicating with each other about locations and strategies, and kept us in the loop the whole time. Ben, was a machine on deck. He watched over us like a mother hen making sure we did it right. Going rod to rod helping us make minor adjustments. In the end, we had 4 limits of halibut and striper in 3 hours. Great team work and service. We'll be back! Thanks fellas!
Matt Macomber
---
We Want To Hear From You Too!
---
More Reviews...
Reviewer Hidden
My two children and I went on a 1/2 day shark fishing trip with Captain Joe. We had a blast and caught leopard sharks and sand shark's. Joe was very knowledgeable and a lot of fun. This was one of our best memories from our trip to San Francisco. Would h...
-Flash Sport Fishing Charters
Thanks Kelly, Captain Joe is doing very well. I am glad you all had a great time. Captain Steve
Reviewer Hidden
Took my adult son on a 1/2 day fishing trip- the day started off with us getting caught in traffic on the Altamont Pass. I called Captain Steve and he was very reassuring and understanding (as was the rest of the fishing party) when we arrived at around...
Reviewer Hidden
I recently booked a trip with Captain Steve, for Halibut and Stripers. We did the 1/2 trip. It was a fantastic event. All I can say is WOW!! such a wonderful fleet of boats. Every thing was Super Clean and every detail was touched. From the fresh coffee ...
-Flash Sport Fishing Charters
I am glad you had a great time. Enjoy the fish! Captain Steve
Reviewer Hidden
I traveled from Minnesota to Marina Dunes to visit my son and his family. While there we decided to go sturgeon fishing. We found Flash Sport Fishing Charters and Capt Steve. With his years of experience fishing the San Francisco Bay area
Reviewer Hidden
very professional looking website
Reviewer Hidden
Great time. First time salmon fishing for brother and nephew. Every fish hooked ended up in boat except for the one that got nailed by a sea lion. We ended up with limits. Smallest fish was 26 inches. Biggest about 18 lbs. Crew was great.
Reviewer Hidden
Joe and Lucas were Terrific!!! Enjoyed our day Thank you again so much We ll be back Melissa
Reviewer Hidden
Great crew worked hard to get us fish. Fun and friendly
Reviewer Hidden
What a great day of fishing. Set out to catch sharks and boy did we catch sharks. We ended up landing 30+ sharks in a half day. Biggest was a 52" leopard shark. The captain and first mate were professional, friendly and patient with the kids. I would def...
Reviewer Hidden
Had a great time out there 24th of June! Catching all those great fish with family, it doesn't get better than that!! The Flash crew my hats of to you, you guys are the best!!!!!can't wait to schedule another t
rip!!! Thank you Flash Sportfishing, for an ...
-Flash Sport Fishing Charters
You are too kind Paul. We do are best to make your trip one you will never forget. Thanks Again Captain Steve Talmadge Flash Sport Fishing
Reviewer Hidden
Traveled from madera,ca on 6/24/17 had a blast,much needed quality time with family,caught plenty of fish,captain n crewman were awesome guys,great help n very cool and chill to share this trip with,been on other charters and this one by far the best exp...
-Flash Sport Fishing Charters
Thanks Mike, Let us know if there is anything else we could do to make your trip be even more enjoyable. Captain Steve Talmadge
Reviewer Hidden
Outstanding Captain! Provided custom rods and reels are first class.
Reviewer Hidden
Very great experience , helpful and informative mates.
Reviewer Hidden
Steve and his crew have great knowledge about fishing in the Bay, are friendly people and have perfect equipment. Looking forward to our next trip!
Reviewer Hidden
I have fished with Capt Steve many times. It's always a great time! His fishing knowledge is second to none and he imparts his knowledge to his Captains. First rate gear, stable comfortable boats. FLASH is the best six pack charter around!
Reviewer Hidden
Had a good time and a nice buzz . Thx for the trip . Ill be back soon
Flash Sport Fishing Charters
I am glad you had a good time Matt. Captain Steve
Reviewer Hidden
As always, I had a great time with Captain Steve.
Flash Sport Fishing Charters
I am glad you had a great time Dennis. Let me know if there is any thing else that would make you trip even more enjoyable. Captain. Steve
Reviewer Hidden
It was a nice day on the water, the boat was clean, the deck-hand was a good guy, tried to do all he could to make it a great day...problem was that there was no fish. We literally sat in the same spot for 12 hours, not even a bite. I fish in Florida a c...
Flash Sport Fishing Charters
Hi phillip, Sturgeon are tough. I fish all year long and they are the toughest fish to bag. That is why we call fishing for sturgeon trophy fishing. They also require the most patients. Unlike other fish were we are moving and hunting them down. Now were...
Reviewer Hidden
Great experience and knowledgeable captain. Catching sharks was a blast.
Flash Is the best!
Capt Steve is a Captain's Captain. His knowledge of the bays and fishing are second to none, and any Captains who he has on his boats are the beneficiaries of his knowledge. His equipment is first class all the way! Whether you are a rookie or experienced fisherman it is always a great time on FLASH 1 or FLASH 2! I have fished with Capt Steve for 20+ years and I highly recommend him!
Bob S. - 5/30/2017
Great trip!!
I took my wife, daughter, son-in-law, and twin 11 yr grandaughters on Flash I out of Martinez on Mar 19. We met Capt.Steve and soon to be Capt.Joe at the dock and left promptly to try for some sturgeon. We landed two sturgeon, not keepers, and two striped bass. My wife got her first fish ever with one of the sturgeons and Capt.Joe was very helpful in helping her to land it. The twins landed a nice bass as did my wife. My son-in-law landed his first sturgeon. The trip went very smoothly and all had a great time. Capt.Steve is very knowledgeable about the bay and both he and Capt.Joe worked well with the kids and my wife in landing their fish. Next up, Flash II in SF Bay! thanks much
Ed R. - 5/30/2017
Great boat
I have been fishing with Captain Steve for 10 years. Great boats great captain great crew.
Jeremy K. - 5/31/2017
The best in the business in my book.
I've fished with flash over the last 12 years. He is fun to fish with as well as experienced as you get.
Joel B. - 4/1/2017