Book Flash Sport Fishing Charter's deep sea fishing charters in San Francisco to see a new side of the coast and explore the most bountiful fishing waters in the Bay Area. Captain Steve Talmadge brings families on exciting fishing adventures to battle large and exotic Pacific sportfish and bring home spectacular trophies. Fishing the San Francisco Bay and ocean waters since 1970, Captain Steve brings decades of experience to each fishing trip so every group will enjoy a fun, scenic and incredible trip.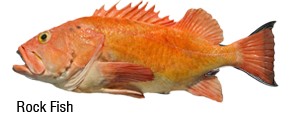 Flash Sport Fishing Charters brings expert and amateur angles out in the open water for many species of fish. With everything you need on board, including rods, reels, tackle and bait specialized for each trip, you and every member of your family can test your fishing skills against the San Francisco Bay's most famous fish. Depending on the season of your trip, you can reel in enormous rockfish, salmon, striped bass, halibut, sturgeon and even sharks on your deep sea fishing charter. You will see picturesque views all across the San Francisco Bay area and ocean, including Alcatraz, Angel Island, the Farallon Islands and more, and learn about each of these locations during your fishing trip.
Book Flash Sport fishing Charters in San Francisco and enjoy fantastic deep sea fishing adventures. Accommodating groups with as many as 6 to 12, you can book fishing charters for your whole family or a wharf boat party for larger groups.