Shark fishing is in the San Francisco bay and is very comfortable fishing. Sharks are great fighters.
Shark fishing is a sought-after pastime for many anglers, offering both a thrilling experience and a big reward.
Booming with shark activity, the San Francisco Bay and ocean waters are a hot spot for shark fishing.
Whether you are an expert angler or are just getting started, our shark fishing charter will be a thrilling new adventure!
Booking our Shark Fishing Charter
At Flash Sport Fishing Charters, our fleet is led by Captain Steve Talmadge, an experienced fisherman and navigator of these waters.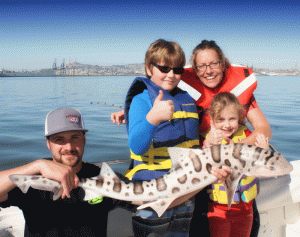 Aboard the Flash or the Flash II, anglers can explore the deep and shallow waters of the San Francisco Bay and ocean where Pacific sharks are known to dwell.
When you book a fishing trip with us, you are signing on one of the hardest working crews in the Bay area.
We'll supply you with all of the rods, bait and tackle you'll need, as well as our decades of experience to help you hook your target.
You enjoy the thrill of the catch—we've got the rest covered!
And once you get a shark on the line, Captain Steve and his crew will safely bring your catch on board.
Not to mention, the crew will help you hold the shark for an incredible photo!
Check out our charter rates and availability here.
Pacific Coast Sharks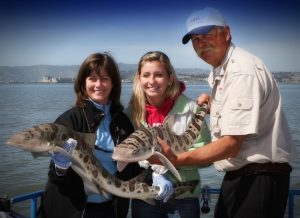 San Francisco Bay is home to 11 species of sharks, including:
Spotted Leopard shark
Sixgill shark
Sevengill shark
Thresher shark
Spiny Dogfish shark
Some sharks can grow up to 18 feet long and weigh up to 600 pounds.
The beautifully-spotted leopard shark, common to the Bay Area, is not only a visual spectacle, but also a giant that can grow over six feet in length. The famous sixgill and sevengill sharks can weigh hundreds of pounds and then there's the thresher shark: the largest shark in the West Coast.
And trust us—it lives up to its name.
Whatever type of shark you reel in, Captain Steve's crew will ensure everyone is safe and enjoying a fun and exhilarating trip.
Ready to hit the open water?
Join us for a thrilling shark fishing charter trip today! Give us a call at 510-851-2500 to schedule your next charter outing.