Hey Fishermen,
Well the weather finally let us fish under nice conditions.
Both Flash 1 and Flash 2 were out yesterday and the groups had a great time. I have room for this weekend.
The conditions could not be better for sturgeon. Now is the time to get your trophy. Call me if you would like to get into the action. Enjoy the photos from yesterday.
Captain Steve Talmadge
Boat, mobile and booking Phone number,
510 851-2500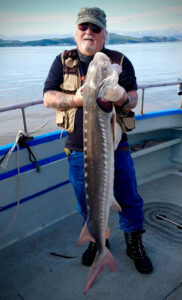 Home